Je viens d'un pays que je n'ai vu qu'en rêve
(I comme from the land of sleep
I comme from the Land Down Under)
Je viens de la flèche des cathédrales
Et des caves de la cité
Je viens des ornières de l'exode
Je viens des marais salants
De la rue du Grand Cerf, des jardins communautaires.
(I come from red dust and hanging rocks
From the long Sunday arvos, from three hundred years of
genocide
, good spirited Iron man contests, icy cold beer on a hot day, slip slap slop, no hat no play, white Aussie policy.
And one day this little word, a bell bird in a hollow tree:
"
Sorry
")
Je viens d'un voyage improbable, d'un réveil en sursaut
Je viens d'une découverte douloureuse, d'une deception miraculeuse
Je viens d'un malentendu.
(I come from Love)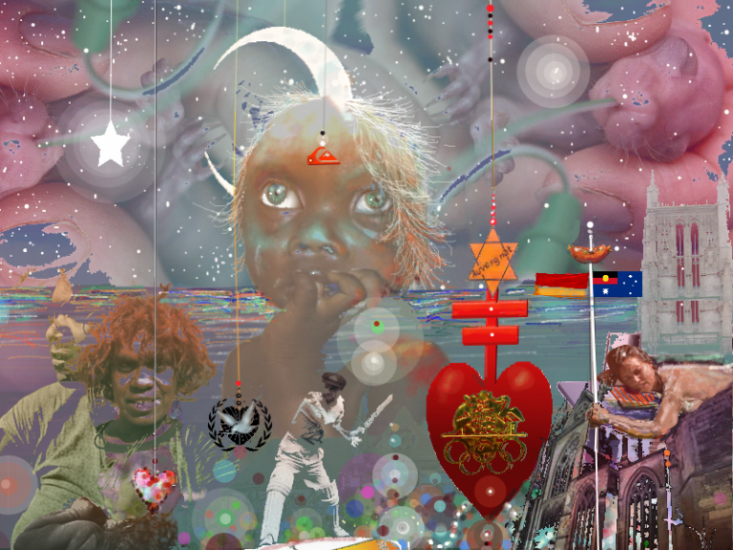 There's a lake in South Australia
Little Lake with a lovely name
And the story woven around it
From the picaninnies came
Every night the native mothers
Croon this lovely lullaby
Croon across the moonlit waters
To the star up in the sky
Carra barra wirra canna
Little star upon the lake
Guide me through the hours of darkness
Keep me safely 'til I wake
Picaninnies heads are nodding
Drowsy crooning fills the air
Little eyes at last are closing
And the boat of dreams is there
Guide my boat across the waters
Cross the waters still and deep
Light me with your little candle
Safely to the land of sleep
Carra barra wirra canna
Little star upon the lake
Guide me through the hours of darkness
Keep me safely 'til I wake
Morva Cogan (1923-1993)